Certified Metaphor Mapping Consultants:
  – Metaphor Language Research Center  (Us, of course!)
  – Agar Associates,  New York,  agarassoc@gmail.com
  – GrowingEdge,  Hong Kong,  http://growingedgelimited.com/
  – River Leadership,  Geneva,  Switzerland  http://riverleadership.org
If you are a consultant and interested in working with the Metaphor Language Research Center:
We welcome in-house and commercial consultants, facilitators and trainers. We know that adding a new offering to your portfolio of tools requires effort. We're committed to sharing our experiences and making it easy for you to learn how to position metaphor languages and start delivering workshops.  We make special arrangements with non-profit groups and professionals in developing countries.
Metaphor Mapping Certification Programs
To make sure your Metaphor Mapping workshop delivers the best results, workshops must be facilitated certified Metaphor Mapping professionals.
There are two types of Metaphor Mapping Certification available for facilitators:
Master's certification
Associate certification
View details of the certification tracks
Background on Metaphor Mapping
While new to the broader market, Metaphor Language has been in use since the 1980′s. Our first two languages were initially marketed under the brand Mission Mapping and have been applied in more than 20 countries by Newbase International and more than a dozen other consulting firms.
Client enthusiasm is always high and workshops have met their objectives when addressing even the most complex tasks in the most complex organizational and difficult inter-personal situations. Users of metaphor languages have included businesses, UN agencies, governments, church groups and community groups.
Disciplines taking the client lead have included:
Corporate organization development
Trainers
Meeting facilitators
Quality and process improvement practitioners
Supply chain managers
Strategy Leads
Marketing managers
Operations managers.
All have been leaders seeking to align their groups and develop enthusiasm for overcoming their challenges. Most clients have held two or more workshops, a small number have held more than ten and one international company more than two dozen, as part of a global supply chain optimization.
These organizations have used Metaphor Mapping: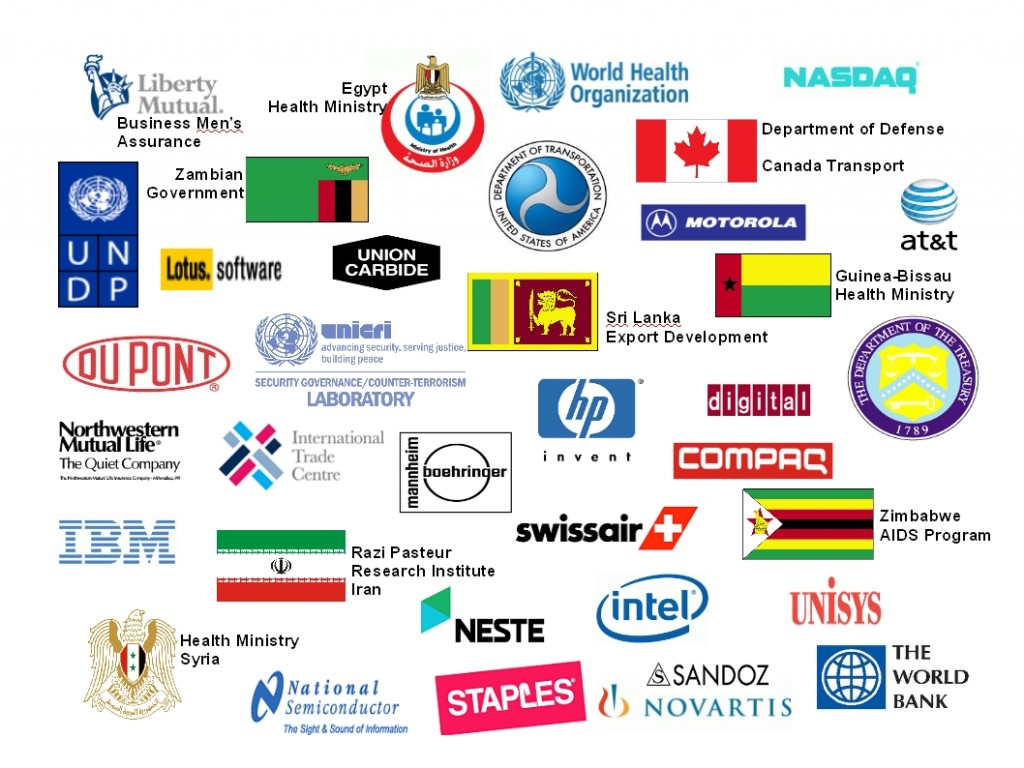 Du Pont de Nemours
Union Carbide/Dow
Sandoz/Novartis
Swissair
Colgate
Unisys
Staples
Canada Transport
Lotus Development
Boehringer Mannheim
Northwestern Mutual Life
U.S. Treasury Department
U.S. Department of Transportation
Hewlett-Packard
Digital Equipment
Compaq
Canada Department of Defense
Business Man's Assurance
National Semiconductor
Motorola
AT&T
Intel
IBM
Neste
NASDAQ
The World Bank
The World Health Organization
GATT/UNCTAD
International Trade Center
Government agencies in Zambia, Iran, Sri Lanka