Teamwork, Collaboration and the skills needed
A team is a group of people who work together to achieve a goal.   Think your division's marketing team or– a sports team.  A captain and many coaches calling the plays and telling you how to work better together.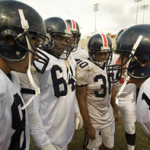 A collaboration is when two or more individuals or groups work together to achieve a goal, with nobody being the formal leader.  This is often the case when working in "partnership" across organizations or companies.  There may be nobody to make decisions or resolve differences. That'd be like the marketing groups from two divisions planning a promotion to a big client—or, a composer and lyricist working writing a song.  Lot's of tough and creative work to do, and it's up to you to sort out how to work together to make a hit record.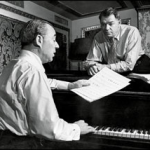 All the skills needed for successful teams are needed for successful collaboration, but, collaboration's bar is higher because there's no oversight.  Success depends entirely on the will and skill of the participants.  If they're not happy, they can reduce or stop their involvement using excuses such as "other priorities" just by not showing up.
Collaboration is voluntary, at least to a degree.
Lack of mutual respect and trust is poison.
A process of interaction, setting priorities and decision making must be agreed
A vision and strategy must be arrived at by consensus
Roles must be agreed but changeable based on circumstance
Collaboration of diverse groups can generate novel solutions to client problems and new product and service ideas.  Increasing need for speed, flexibility and change mean collaboration skill will become a differentiator.  Organizations that rely on formal leaders to drive innovation will not be able to compete.
 Catalyze Collaboration!
 A new training offering for your 2015 portfolio
For new or in-tact teams
It employs action learning: The team's business issue is the core of class activity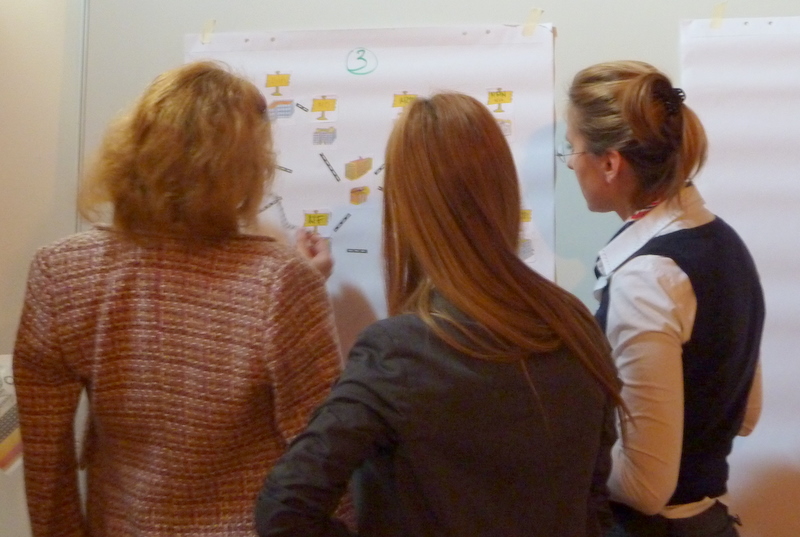 The Offering
Catalyze Collaboration! takes an action-learning approach to teach and give participants the experience in techniques of teamwork when there's no leader to set direction and allow differences.  Many of its principles are described in the eBook LEADING FROM THE MIDDLE – Collaboration Through Metaphors.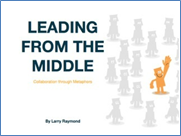 Principles for Successful Collaboration are explained and experienced
Personal skills
Structure when dealing with collaborating groups
Generating collaborative energy
How visualization promotes innovation
2. Class alternatives
Half day class:
Introduction to collaboration principles (above)
Build collaborative map of today's state of the team's area of interest
Build a collaborative vision
Review collaboration principles
One day class:
Team also builds a strategy, with focus on overcoming obstacles
One and a half day class:
Team also builds visual/symbolic grid of roles/responsibilities and addresss attitudes and behaviors with visual symbols
What's unique about "Catalyze Collaboration!"?
High participant engagement is assured by action-learning on one of participants' core issues.
The Metaphor Mapping process is known for bringing classroom energy, openness and creativity.  Stickers of familiar objects within metaphors become a language for collaborative and disciplined work sessions.  For example, participants portray their ongoing operational activity as a village with houses, roads, storm clouds, swamps and fallen trees having specific meaning.  They may show values that dominate the village and aspects of the environment, such as a prison of old ideas or a volcano that risks changing the landscape.  Participants build their strategy as a river flowing through time—actions they will take plus sand bars, hidden rocks and crocodiles.  The method leads them to consider assistance needed to overcome obstacles and possible undesirable outcomes if they take a wrong turn. Responsibilities are powerfully stated when team members assign roles with images.
The sticker symbols help group members warm to their task, understand each other and work together readily regardless of prior tensions.  The "serious play" of mapping a big picture vision or strategy with metaphors opens participants to new ways of thinking and draws out everyone's best ideas.  Those ideas are eventually owned by all when symbol after symbol is added to the map.  There's no question of "buying in" to the vision and strategy.  They built it together and own it together.
 4. Value to participants
Understand the theory and gain experience applying collaboration principles that have been proven in over 400 sessions and over 30 countries
Increased understanding of teammates' perspectives
Participate in analyzing the team's current operation and creating a shared vision
Participants in full day and longer courses learn to build a shared strategy, establish roles and responsibilities in a visual way, deal with sometimes hidden attitudes and behaviors
Facilitator/trainer is an international consultant and experienced executive at major corporations
Value to the greater organization and the training department
Action-learning on a skill of critical importance to organization effectiveness
This high energy, workshop style class will generate immediate, valuable benefits to participating team
Information about our trainers and pricing can be found at Catalyze Collaboration training.