A Tool for Culture Change
The Zoo helps groups collaboratively address culture,  mindsets and attitudes.  Stickers of animal caricatures placed on a wall allow discussion of behaviors in a way that contains the stress of confronting emotional issues.
What the Zoo Does
Makes attitudes visible and allows low risk discussion of sensitive issues
Builds emotional  as well as logical understanding of roles within a community, boosting overal energy and efficiency
Establishes group identity
Provides a means of reshaping aspects of organization culture
When to Use The Zoo
Starting a new team or improving teamwork – – To set role and behavior expectations
Resolving problems – Overcome negative attitudes between groups
Promoting a change of culture – Frank discussion leads to openness to change
Individual – To help consider and understand your own environment and expectations
Counselor – To promote discussion and understanding of different perspectives
Example of a Zoo Metaphor Map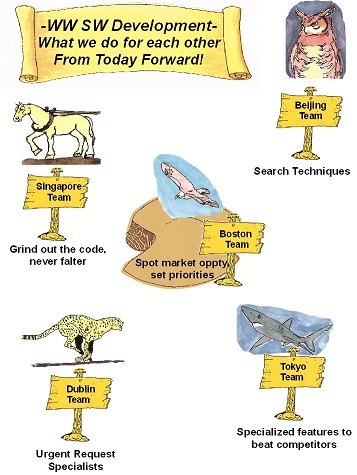 Zoo Mapping Kits are available for trained facilitators.