Reinventing Communication Ebook by Larry Raymond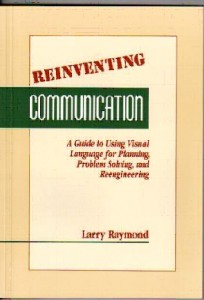 REINVENTING COMMUNICATION describes metaphor languages, a system of visual symbols that supplements words for communication and analysis and heightens creativity. This book shows how metaphor language helps people communicate on a deeper level, reconcile opposing ideas, and set common objectives, The visual images are tools that help facilitators, consultants, trainers and group leaders to renew their organizations, reengineer their processes, align human resources and operate in a more efficient manner. Counselors can also use these tools in one-on-one sessions.
Whatever your industry – manufacturing, education, health care – and whether you are in government or an international agency – this book will show you how to create, facilitate and use metaphor languages to help improve your effectiveness by:
Giving you the ability to use images to make issues more tangible and actionable
Helping you communicate more clearly
Aligning your emotional resources with your intellectual resources
It can help you improve the effectiveness of a group by:
Increasing group problem-solving and direction-setting capability
Helping transform values into actions
Increasing interworking skills and creating an environment that encourages bonding
It can also help you renew your organization by:
Increasing the speed of participate decision making
Establishing a new rhythm suited to participative leadership
Increasing the entrepreneurial spirit
Learn how companies have benefited from using metaphor language in their organizational activities.  Use this book to understand research showing how the sense of sight can help people access visual thinking capabilities and the emotions that affect work relationships and teamwork. This book further shows how anyone can learn how to use metaphor languages and apply them to personal and professional applications to achieve positive results
Download your free copy now!
Enter your email address to download Re-inventing Communication Ebook