A New Book by Larry Raymond
Simplify is the best overview of how to use metaphors for business change.  This book shows you how to use all the Metaphor Mapping languages for tangible results in a repeatable manner.
In this book, you will discover:
How metaphors bring organizations together for setting strategy and committing to change
How visual, metaphoric languages lead to original thinking
The "Recipe" for making complex business issues "Mind-Sized"
Real examples of how organizations used Metaphor Mapping to change culture and coordinate diverse groups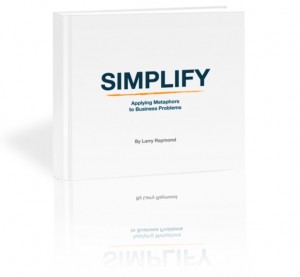 This 34-page PDF is free of charge.  To get your copy, please enter your email address into the box below and you will receive a link to the file.
Enter your email address to download Simplify - Applying Metaphors to Business Problems